An impressive skyline is not the first thing that comes to mind when you think of Jakarta. Indeed, from the city's traffic-clogged streets, it can be difficult to see anything other than cars, shops and smog. But one property firm is hoping to change that. An Indonesia company called PT Danayasa Arthatama is pitching a project called the Signature Tower, a 111-story hotel-and-office complex. Standing at a projected 638 m (2,093 ft.), it would be taller than the former World Trade Center in New York City and eclipse the tallest building in Southeast Asia, the Petronas Towers in Kuala Lumpur. "This will be proof that Indonesia has changed," says Santoso Gunara, president commissioner of PT Danayasa Arthatama. "We need something like this so people will know there is something going on here."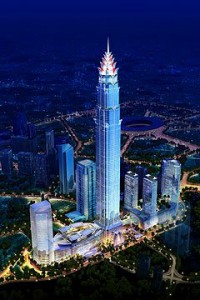 Courtesy of Santoso Gunara
There is certainly a lot happening in Indonesia. The Southeast Asian nation has bounced back from the 1997 Asian financial crisis and is, for the first time in decades, on sound financial footing. The Indonesian economy is turning heads at a time when most developed economies are trying to turn the corner. The country has seen an average annual GDP growth rate of 5.2% from 2001 to '08, and it is expected to expand more than 6% this year. Earlier this year, its sovereign-debt status was bumped up to investment grade by two of the major ratings agencies — a third is likely to follow suit. "We expect growth to pick up in the coming years to about 7% over the medium term," said Stephen Schwartz, BBVA Research's chief economist for Asia.
(LIST: Top 10 Tallest Structures in the World)
The developers hope the tower will be a symbol of Indonesian ascendancy, a testament to the country's towering ambitions. But not everyone is sold — on Indonesia's prospects, or on the project itself. As a recent report co-authored by the Asian Development Bank (ADB) points out, Indonesia's economy is still relatively fragile. If growth stays at current levels, Indonesia would need 23 years to reach the per capita income level that neighboring Thailand achieved in 2008. The report warns that Indonesia risks succumbing to the "middle-income trap" wherein inadequate infrastructure, weak institutions and economic inequality dampen growth. "Stronger institutions are key in pushing forward harder reforms, such as reducing badly targeted fuel subsidies, which are needed to accelerate more productive investments in infrastructure development and initiatives to reduce inequality," says Jon Lindborg, ADB country director for Indonesia.
These and other concerns have critics asking if a record-breaking skyscraper is ill advised. Analysts seem split on what an additional 200,000 sq m (over 2 million sq. ft.) of office space might mean for the city. "That's a lot of supply in one building," said Todd Lauchlan, country head of Jones Lang LaSalle Indonesia. "But given the superb location and quality of design, I have no doubt the project will be a success." Jakarta-based architect Ahmad Djuhara is less optimistic. "The supporting infrastructure is questionable, and there are so many problems, like traffic congestion, that could be created," he said. "There are other ways to make your mark as a developer other than just going high."
For now the developers, like the country, are pressing ahead. They hope to break ground by year's end.
Source : http://world.time.com/2012/04/17/does-jakarta-need-an-111-story-tower/